Earn the "trust" of our customers and "contribute" to
the development of society through our business.
Act with courage and conviction, based on a spirit of
"mutual trust" and "cooperation".
Value harmony with society and engage in
resasonable corporate activities as a good corporate citizen.
We advanced our corporate philosophy
by establishing the "Tokyo Sangyo Executives Code of Conduct" and
operating in accordance with compliance policies and
our corporate philosophy, always ensuring fair corporate activities.
On Apr. 16, 1942, Yasukichi Yasue established Daiwa Kikai Co., Ltd., to
manufacture and sell machinery and equipment.
In Mar. 1947, the company's trading name was changed to Tokyo Kenzai Kogyo Co., Ltd.
In Jul. 1947, Mitsubishi Corporation was dissolved by a memorandum from
the General Headquarters of the Allied Forces.
Interested parties from the Machinery Department of Mitsubishi Corporation acquired
a controlling interest in Tokyo Kenzai Kogyo,
and the trade name was changed to TOKYO SANGYO CO., LTD.
The changes at TOKYO SANGYO CO., LTD. after Jul. 1947 are listed below.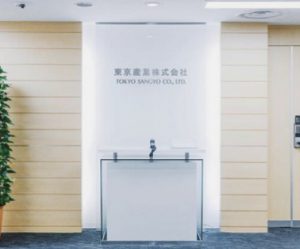 | | |
| --- | --- |
| Oct. 1947 | With the support of Mitsubishi group companies, a new machinery trading company was established. The company's business was the domestic sales, import, and export of general industrial machinery and equipment. The anniversary of the foundation was decided to be October 20. |
| May. 1948 | Head Office moved to Kakigara-cho, Nihonbashi, Chuo-ku, Tokyo. |
| Nov. 1950 | Established Nagoya Sub-Branch (current Tokai Branch). |
| Mar. 1951 | Established Sendai Sub-Branch (current Tohoku Branch). |
| Apr. 1951 | Established Osaka Sub-Branch (current Kansai Branch). |
| Jul. 1951 | Head Office moved to 8 2-chome, Marunouchi, Chiyoda-ku, Tokyo. |
| Jun. 1956 | Established Taipei Sub-Branch (current Taipei Branch) |
| Apr. 1957 | Merged with Tokyo Meiki Shokai Ltd., the agent for Mitsubishi Heavy Industries Ltd. in engine products. |
| Aug. 1959 | Listed as an over -the- Counter Traded company on the Tokyo Stock Exchange. |
| Mar. 1960 | Formed an equal merger with Nikkyo Sangyo, an importer and exporter of ships and shipping equipment, to diversify its product lines. The head office moved to 6 2-chome, Marunouchi, Chiyoda-ku, Tokyo. |
| Oct. 1961 | Listed on the Tokyo Stock Exchange Second Section. |
| Jul. 1963 | Head Office moved to 2 3-chome, Marunouchi, Chiyoda-ku, Tokyo. |
| Apr. 1977 | Established TOKYO SANGYO SINGAPORE (PTE) LTD. |
| Feb. 1987 | Established Tokyo Sangyo Fudosan Co., Ltd. |
| Sep. 1994 | Increased capital through a public offering of 2.4 million shares. |
| Aug. 1995 | The investment unit was changed to 500 shares. |
| Sep. 1996 | Listed on a Tokyo Stock Exchange First Section stock. |
| Aug. 2006 | Head Office moved to 2-1 2-chome, Otemachi, Chiyoda-ku, Tokyo. |
| Oct. 2006 | Established TSC (Shanghai) Co., Ltd. |
| Jul. 2007 | Both branches of Osaka and Kobe merged to form Kansai Branch. |
| Nov. 2011 | Established TOKYO SANGYO (THAILAND) CO., LTD. |
| Dec. 2012 | Established PT. TOKYO SANGYO INDONESIA. |
| Apr. 2013 | Established TOKYO SANGYO, INC. in the USA. |
| Oct. 2013 | The Share unit changed to 100. |
| May. 2014 | Established Tokyo Sangyo Machinery, S.A. de C.V. in Mexico. |
| Jul. 2014 | Established TOKYO SANGYO EUROPE GmbH in Germany. |
| Apr. 2016 | Established Innovation of Social Environment Co., LTD. |
| Nov. 2017 | Established TOKYO SANGYO ASIA TRADING CO., LTD. in Thailand. |
| Apr. 2018 | Acquired I・A・H CO., LTD. |
| Jun. 2018 | Established TOKYO SANGYO VIETNAM CO., LTD. |
| Dec. 2018 | Opened Madagascar Liaison Office. |
| Oct. 2019 | Established TOKYO SANGYO MALAYSIA SDN. BHD. |
| Oct. 2019 | Acquired of Kikuden International Ltd. |
| Dec.2019 | Established Yasuda TSC International Co., Ltd. |
| May.2020 | Established TOKYO SANGYO EUROPE GmbH Hungarian Branch Office. |
| Sep.2020 | Established Shandong Tokyo-Union Technology Development Co., Ltd. as a joint company with Liangiao group in China. |
| Jul.2021 | Established TR Energy Co., Ltd. |
| Oct.2021 | Merged Kikuden International Ltd. with Tokyo Sangyo Co., LTD. |